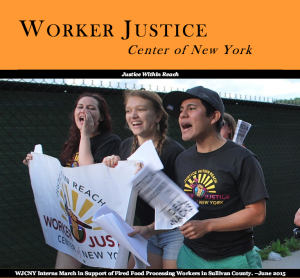 The Worker Justice Center of New York, just across the river in Kingston, recently published their 2014-2015 report. The bulletin covers all the highlights of the Justice Center over the past two years, noting the many successes of their Human Trafficking Program, their Domestic and Sexual Violence Program, and their Workplace Justice Program.
One of Bard's very own, Lydia Herrick, can be seen in the middle of the front cover of the report. Lydia is a junior at bard, majoring in Spanish. She is also an HRP summer internship and award recipient!
View the full report here.