*This program originally aired on Robin Hood Radio on Friday, February 28, 2014*
Interview I: DAN GETTINGER (9 mins.)
Dan Gettinger, '13, is the co-founder and co-director of the Center for the Study of the Drone.  He studies politics and international affairs, and started the Drone Center during his senior year, along with classmate Arthur Holland.
You can read more about the Drone Center, and sign up for their Weekly Roundup, by visiting their website:
http://dronecenter.bard.edu/
https://www.facebook.com/dronecenter
https://twitter.com/DroneCenter
Interview II: TREVOR PAGLEN (21 mins.)
Trevor Paglen's work blurs disciplinary and formal borders to construct unfamiliar ways to see and interpret the world around us. Paglen's visual work has been exhibited at the Metropolitan Museum of Art, New York; The Tate Modern, London; The Walker Arts Center, Minneapolis; The Andy Warhol Museum, Pittsburgh; Institute for Contemporary Art, Philadelphia; The San Francisco Museum of Modern Art; the Istanbul Biennial 2009, and at numerous other solo and group exhibitions. He is the author of five books and numerous articles on subjects such as future warfare, state secrecy, experimental geography, anthropogeomorphology, deep-time, and cave art. He spends more time thinking about modernist painting than he would like to admit. Paglen holds a B.A. from UC Berkeley, an M.F.A. from the School of the Art Institute of Chicago, and a Ph.D. in Geography from UC Berkeley.
In September 2012 Paglen published The Last Pictures with Creative Time Books, a study of communication satellites as the cultural and material artifacts that will outlast 21st century human existence. "Cave paintings are an example of images or records we have from cultures that have been radically torn from any historical context," Paglen said. "They are to us what our spacecraft may be to the future."
A trailer for the publication of The Last Pictures: http://vimeo.com/53655801
In October, 2012 the New Yorker featured a spread of photos which charted Paglen's use of specialized equipment to document sites of secret government activity.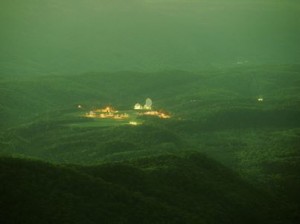 "They Watch the Moon" (2010)
"Taken within the National Radio Quiet Zone, in West Virginia, where astronomers use sensitive radio telescopes to photograph distant galaxies. The site pictured here, in Sugar Grove, is widely believed to be an N.S.A. eavesdropping complex" – Jonah Weiner, The New Yorker October 2012
Interview III: DANIEL KLAIDMAN (25 mins.) 
Daniel Klaidman is an author and the deputy editor at Yahoo News. Between 2006 to 2011, Dan Klaidman served as the managing editor of Newsweek and, as the Washington bureau chief in 2001, Mr. Klaidman led the magazine's award-winning coverage of the September 11 attacks. As an investigative correspondent for Newsweek and, more recently, the Daily Beast, Mr. Klaidman has focused on the intersection of national security and Washington politics.
Mr. Klaidman is the author of Kill or Capture: The War on Terror and the Soul of the Obama Presidency. Kill or Capture has become a seminal text on the inner workings of first years of the Obama administration's covert drone war. Klaidman's fly-on-the-wall reporting reveals who has President Obama's ear, how key national security decisions are really made, and whether or not President Obama has lived up to the promise of candidate Obama.
In the last few years, Mr. Klaidman has done extensive reportage for the Daily Beast on the increase of drone strikes, providing valuable insight into the Obama Administration's rationalization of its conduct.
'U.S. Drone Program Needs to Be Accompanied by Hard Facts on Civilian Deaths' (11/08/13): http://www.thedailybeast.com/articles/2013/11/08/u-s-drone-program-needs-to-be-accompanied-by-hard-facts-on-civilian-deaths.html
'Obama: I Make the Drone Decisions' (5/23/13): http://www.thedailybeast.com/articles/2013/05/23/obama-i-make-the-drone-decisions.html
'Obama's Drone Debacle' (3/10/13): http://www.thedailybeast.com/articles/2013/03/09/obama-s-drone-debacle.html
'The Drone Memo's Origin' (2/06/13): http://www.thedailybeast.com/articles/2013/02/06/the-drone-memo-s-origins.html
Source documents
President Obama Counterterrorism speech at the National Defense University in May, 2013
Department of Justice White Paper on Targeted Killings
Former State Department Legal Counsel Harold Koh 2010 Speech on the Obama administration and international law.
House Hearing, 111th Congress – RISE OF THE DRONES: UNMANNED SYSTEMS AND THE FUTURE OF WAR
Additional Reading
Jenks, Chris, Law from Above: Unmanned Aerial Systems, Use of Force, and the Law of Armed Conflict (March 12, 2010). North Dakota Law Review, Vol. 85, p. 649, 2010. Available at SSRN: http://ssrn.com/abstract=1569904
Chesney, Robert, Beyond the Battlefield, Beyond Al Qaeda: The Destabilizing Legal Architecture of Counterterrorism (August 29, 2012). Michigan Law Review, Forthcoming; U of Texas Law, Public Law Research Paper No. 227. Available at SSRN: http://ssrn.com/abstract=2138623
COMMENTS about the show can be sent to [email protected]