Screening of No Human Is Illegal, with discussion to follow
December 6, 2018 @ 6:00 pm

-

8:00 pm
The Human Rights Project and the Hannah Arendt Center invite you to join us for a screening of
NO HUMAN IS ILLEGAL (2018, 61 mins.)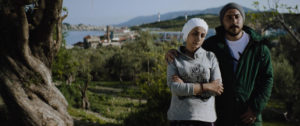 Followed by Q&A and discussion with filmmaker Richard Ledes and Bard students who work with Samos Volunteers
Richard Ledes is the director and producer of the new film, NO HUMAN IS ILLEGAL. It is a documentary about refugees currently detained on the Greek island of Lesvos. They are indefinitely awaiting a decision from the European Union as to whether they will be allowed to stay in Europe or deported back to Turkey. Take a moment to search using Google "refugees on Lesvos" and you'll see why this island has a particular importance at this time. The birthplace of Sappho is also home to Camp Moria, a migrant camp the BBC has called the worst in the world.
NO HUMAN IS ILLEGAL is structured around interviews with refugees, residents of the island and international volunteers that Ledes conducted on Lesvos in the various refugee camps and other locations where refugees reside. NO HUMAN IS ILLEGAL explores the history of Lesvos as a centuries-old destination for refugees, and gives the refugees–mainly from both Arab and Kurdish-speaking Syria, as well as other countries–an opportunity to share their motivations for leaving their homes, what their voyage has been like, and their goals for the future. The film is full of powerful moments and personal stories.  A link to the NO HUMAN IS ILLEGAL trailer is here: https://goo.gl/2eQMM3
This event is part of our public programming for the Consortium on Forced Migration, Displacement, and Education,
generously supported by a grant from the Mellon Foundation.