Hate and Otherizing: The Psychology of Perpetrator Behavior
October 25, 2018 @ 5:00 pm

-

7:00 pm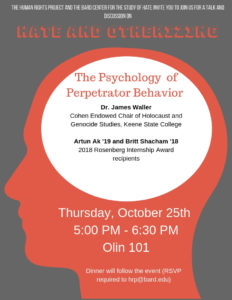 The Human Rights Project and the Bard Center for the Study of Hate invite you to join us for a talk and discussion on
Hate and Otherizing: The Psychology of Perpetrator Behavior
with
Dr. James Waller
Cohen Endowed Chair of Holocaust and Genocide Studies, Keene State College
and featuring presentations by
Artun Ak '19 and Britt Shacham '18
2018 Rosenberg Internship Award recipients
date: Thursday, October 25th 
time: 5:00 PM – 6:30 PM
venue: Olin 101
Dr. James Waller is the author of Becoming Evil: How Ordinary People Commit Genocide and Mass Killing (Oxford University Press), and teaches at Keene State College. A social psychologist, Dr. Waller grew up in Atlanta at the height of the Civil Rights movement and, even as a child, questioned the social divisions he saw in the society around him. That questioning – and his desire to see people treated fairly – naturally formed the basis for his interest in intergroup conflict and relations – specifically race relations, which led to his graduate work in social psychology at the University of Kentucky. "I"m interested in how people get along and, too often, why they don"t get along," he explained. "Why do differences in race, culture, class, or religion often cause such conflict?"
In the summer of 2018, Britt Shacham spent the summer interning with Women Wage Peace in Tel Aviv, and Artun Ak worked with the Montana Human Rights Network in Helena, Montana. They will present summaries of the specific advocacy campaigns they worked on, and offer reflections on how their NGOs address the issue of hate and "otherizing" in the work they do.
This event will be of particular value to students interested in pursuing a summer 2019 internship with an organization working to combat hate and discrimination in its various forms. There will be ample time for students to find out more about the internship program and to ask questions.
Dinner to follow after the event.
RSVP for dinner is required by Tuesday, 10/23 by emailing hrp@bard.edu
this event is made possible by a grant from the Academic Engagement Network