A Reception to celebrate the Publication of "Intolerance: Political Animals & Their Prey"
February 19, 2018 @ 5:00 pm

-

8:00 pm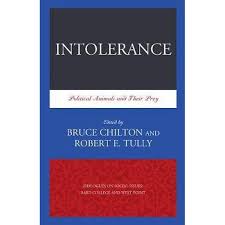 The Center for Civic Engagement and the Human Rights Program invite you to join us on Monday February 19 at 5:00pm Reception at the Oiln Atrium, followed by a Panel Discussion on coping with intolerance in the public sphere at 6:00pm in Olin 205. 
Featuring Professor Bruce Chilton in Conversation with West Point Professors: Graham Parsons, Ty Seidule, Robert Tully, and Courtney Morris
Bruce Chilton is Bernard Iddings Professor of Religion at Bard College. His books include Rabbi Jesus, A Galilean Rabbi and His Bible, The Temple of Jesus, Pure Kingdom, and Visions of the Apocalypse. He has written the first critical commentary on the Aramaic version of Isaiah (The Isaiah Targum).
Robert Tully is Professor of Philosophy at the United States Military Academy and Professor Emeritus at the University of Toronto. He co-authored with Frederic Portoraro a textbook on symbolic logic and has published many articles on Russell, Moore and Wittgenstein. With Bruce Chilton and Jacob Neusner he edited Just War in Religion and Politics, to which he also contributed an essay.
Colonel Ty Seidule, PhD, is Professor and Head of the Department of History at the United States Military Academy at West Point. During his more than thirty years in the US Army, Colonel Seidule has commanded cavalry and armor units in war and peace, serving in the United States, Germany, Italy, the Balkans, Saudi Arabia, and Iraq. A leader in digital history, he is the creator and senior editor of the award winning The West Point History of Warfare, a seventy-chapter, million-word enhanced digital text published by Rowan Technology. He is also the editor of the award winning The West Point History of the Civil War and The West Point History of World War II, Vols. I and II, and the forthcoming West Point History of the American Revolution published by Simon and Schuster. He is the creator and series editor of the West Point Guide to the Civil Rights Movement and the West Point Guide to Gender and Warfare used by all cadets at the United States Military Academy. He also writes on West Point history, especially Civil War memory and African American history. He is currently working on a history of the Black Power movement at West Point.
Moderated by Malia K. Du Mont

For more information:  Contact Malia K. Du Mont '95