An Evening with Matika Wilbur – Inaugural Event of "Hózhóogo Naasháa Doo: In Beauty I Walk" Series
April 4, 2014 @ 6:30 pm

-

8:00 pm
Event Navigation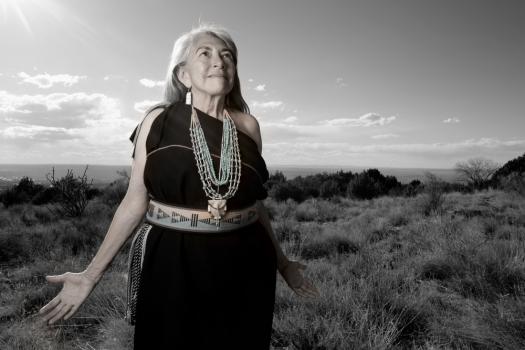 The Difference & Media Project, LASO, The Human Rights Project, and the History Department present an evening with acclaimed photographer Matika Wilbur,  the inaugural event of  "Hózhóogo Naasháa Doo: In Beauty I Walk", a Native American educational series curated by Kalen Goodluck.
Matika Wilbur is a widely-exhibited and collected photographer, writer, and educator from the Swinomish and Tulalip Tribes of the Pacific Northwest. Wilbur started Project 562, an exhibition which seeks to shed light on the true essence of contemporary Native American issues and unveil the beauty of Native culture and tradition. In her project, Wilbur strives to document every surviving Native tribal group in the United States, 562 of which are federally recognized as Tribal Nations in the U.S.
"My goal is to create a book and exhibition representing Native people from every tribe. By exposing the astonishing variety of the Indian presence and reality at this juncture, we will build cultural bridges, abandon stereotypes, and renew and inspire our national legacy" – Matika Wilbur
The event was co-sponsored by Annandale Ales and Wellness and organized by Difference and Media Project Student Fellow Kalen Goodluck. Kalen is the curator of the "Hózhóogo Naasháa Doo: In Beauty I Walk" Native American Project.
Please check out Matika Wilbur's website here:
http://www.matikawilbur.com/
http://www.matikawilbur.com/blog/
Ted Talk:
http://tedxtalks.ted.com/video/Surviving-Disappearance-Re-Imag;search%3Atag%3A%22TEDxSeattle%22